Wednesday June 20, 2012
This was a really exciting week for me to get out racing again, not only because I had missed last week but because one of our blog followers who lives close to the Grand Rapids area was going to come join me.  Jackie was one of the first people to like our Facebook page when I started it this winter and introduced herself stating that she and her husband were looking to go cruising in a few years as well.  We did a lot of corresponding through Facebook and comments on the website, and when she mentioned that racing might be a good thing for her to get into as well I told her she needed to come join me some night.  So after months of talking online we planned to meet up at a McDonalds on the way to Muskegon where we would carpool to the marina and she could finally experience all the fun that I kept bragging about.  When I walked into the restaurant she wasn't hard to spot (partially because she was the only one in there) and immediately we started talking like we were long time friends just picking back up where we last dropped off.  After ordering a yummy iced coffee, just got hooked on those after visiting AZ, we loaded my car up with the beer she brought and made our way out to Muskegon without having to fight any traffic this time.  Along the way we discussed my trip, her trip, and all the different blogs we follow which turned out to be the exact same ones.  We also found out we listen to the same morning radio station and have a lot of the same interests.  It's like we were twins separated at birth and finally got to meet for the first time.
Since we were making such good time on the ride there, when I pulled the car into Torresen's I brought it back to the slip they had put Serendipity in while trying to find a new mooring for us.  We got out for a second to look around and while we didn't go on deck or below I promised Jackie that I'd have to have her and her husband out sometime for a ride before Matt and I left the next month.  Looking over at the yacht club and realizing we should probably get over there I parked the car and we grabbed our stuff and walked the quarter mile down the road to MYC.  Walking down the dock to Island Dream I had Tom and Shannon waiving at me from on deck as usual and Mike and John were busy moving around getting all of the lines run.  After stepping aboard and introducing Jackie, the first words out of Tom's mouth were 'Would you be ok with not racing tonight?'.  Hmmmm…..the one time I bring out a friend specifically for the racing experience and we might not go.  I didn't know if he meant that we'd just be sitting at the dock all night, but he explained that the winds were pretty high and we were short crewed and maybe a pleasure cruise on Lake Michigan would be better for us that night.  He also hinted that this would give me the opportunity to take the helm or handle some lines since we'd just be out for fun and not keeping a specific course.  I looked at Jackie and we both shook our heads ok.  Besides, it was the official first day of summer and we had two coolers packed with beer.  It was after we agreed to this that we found out the crew was split with half wanting to pleasure cruise and half wanting to race.  Part of me was still hoping that we would race just because winds were so high that it would be really exciting, and I could also show Jackie what a race was like.  While her and I stood on deck trying to stay out of Mike's way while he still ran lines the census from Tom came back that we would actually be racing that night.  Until a shackel broke which meant we weren't, and then it was fixed so we were back on again.
I hontestly had no clue what was happening with the on again off again race and it wasn't until John and Mike were busy uncleating us from the dock that I had any clue on if we were even going to leave or not. Jackie and I sat up on deck with Shannon for a minute until Tom said that because of the high winds and the small crew that he wanted everyone back in the cockpit. We all made our way back and found seats spreading from one side to the other. Many of the other boats were already on the water with their sails raised and would dash back and forth from one end of the lake to the other. Heading out to where the course started we were downwind so the wind coming from behind us didn't feel too strong but when we turned on a beam reach once we had reached the area of the start the winds were hitting us right on and it felt like they had picked up 20 miles an hour. Mike had the spinnaker all set to run while we were at the dock but with the whitecaps rolling over the water it didn't look like we'd be using it that night. Turning ourselves into the wind the mainsail was raised and while most of us on board (myself included) were wanting to get the headsail unfurled Tom thought that conditions were too strong to let any of it out, but after Mike and John worked on him a little he agreed to let it out about 1/3 of the way.
Passing by the Torresen's boat we found our division would be starting first and Shannon was ready with her stopwatch when the first horn blew with our five minute warning. With John being our tactician that night he would tell Tom when to tack and where we wanted to be  per the countdown and it somehow worked out that when the horn blew for the start of our division we were the first ones out of the gate, so to speak. There were no close calls of anyone hitting us that night but I pointed for Jackie to turn around and we watched all the other boats in our division fight for spots and come very close to knocking into eachother. Because many of them were sailing with a main and a head it didnt take too long for others to start passing us by. Without any work assigned on the lines Jackie and I sat aft with Tom near the helm and I would point out to her the things I actually did know were happening. Like when two minutes after the starting horn about three boats that were on our course tacked off into a completely different direction and that the first marker we were headed toward was probably close to a straight line forward from our starting spot and that while we'd all eventually have to tack that direction anyway these boats were doing it early because they most likely didn't start on a good course or figured they could get better speed going in a different direction. I wasn't sure if it was right but it sounded smart and I'm pretty sure I actually did impress her as one by one all the boats on our course ultimately changed to that direction as well. Maybe I could even be tactician next time. Although I'm sure all my directions would be 'Oh, everyone else is tacking? Ok, we should probably tack too.'.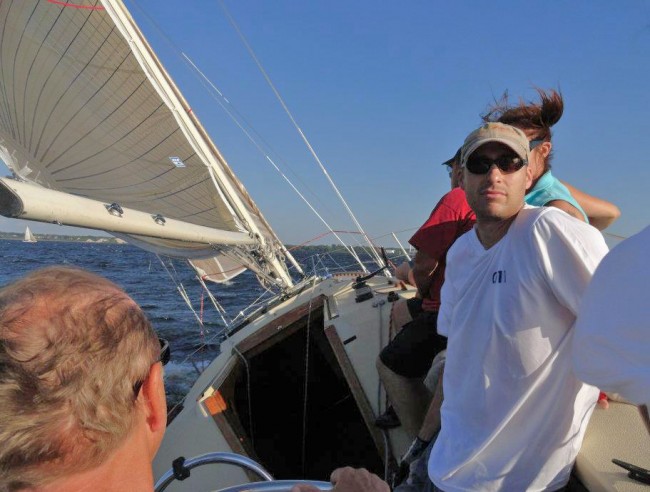 The gusts of wind were blowing on us hard as we made our way upwind and we were probably heeling near 25% most of the time. I looked back at Jackie to make sure she was doing alright and found that Tom had given her a job as photographer. This worked out very well as Tom loved to get action photos of the races but would always get yelled at by John for taking pictures while racing, and it also worked out for me because I left my phone down in my bag below deck and there were not any good moments to run down and go get it.  Finally decent photos of the race I can share from a real camera.  She was just sitting there with a smile on her face, taking pictures with one hand and hanging on for dear life with the other. When it was time to do tacks Mike, John and Shannon would work the lines while Jackie easily slid from one side of the stern to the other and I would try and find the best opening, doding between people and the wheel and usually slipping on some line along the way. Not my most graceful race ever but I always eventually made my way back over to the high side. As we neared the first marker a few of the division 1 boats that started after us had now passed us and were also rounding the mark and throwing up their spinnakers. I was very surprised to see them using their kites in winds that were gusting over 30 knots but I figured these guys were the pros and knew what they were doing. Shortly after we rounded the mark ourselves and didn't have to do more than just tack we began to watch the destruction unfold of the boats ahead of us. One of the division 1 boats that had been flying their spinnaker had now broached and were having a hard time getting righted. They couldn't turn themselves in a direction that would bring them upright again and their spinnaker was getting lost underwater. It was like a trainwreck where you couldn't take your eyes away and of course Tom and I were shouting 'Jackie, get the camera, get the camera!!'. Luckily these guys do still know what they're doing at it was only a few moments before they were able to get their spinnaker back on board and were fully upright again.
Also on our downwind run we were treated to one of the smaller (but much faster) race boats, a Melges I think, with one of the crew memebers yelling and screaming about how the spinnaker was not raised properly. I think I learned three new curse words while listening to him. Have I mentioned how happy I am to be on a boat with Tom? As we sailed safely and slowily downwind there were a few more moments of other boats having out more sail then they couldhandle. Every strong gust of wind seemed to take at least one more boat down with it, usually just for a moment before they gained control and were back on their way. There was a point where we rounded the second marker to begin heading back up wind and just moments after we had passed it Mike was looking behind to a few division 1 boats that were about to round. I'm guessing they had gotten too close for comfort and one had to quickly veer way to avoid a collision. The boat that did veer must have also had an accidental jibe because as Mike described it, all the guys who were riding the high side were all of a sudden in the water because it very suddenly became the low side.  Probably a second or two later they popped back up and continued racing which fortunately meant that no one fell overboard.  It also didn't take very long for these two division 1 boats to accelerate right past us as well as most of the other boats in the race.  By the time we had gone around the course once more and were now on our last upwind stretch toward the finish there was absolutely no one behind us.  I think a number of other boats had dropped out due to the strong winds or possible damage to sails, so it felt good just to know that we would finish at all.
While we still had almost half of the last leg to complete the only other boat racing now besides us had crossed the finsh and we wondered if the Torresen's boat would even wait for us to cross as well before upping anchor and head back in.  I guess sometimes if the last boat is still a long way out they don't always wait for it before packing it in.  As we tacked back and forth the last few hundred yards that little red boat was still waiting for us and when we passed between it and the marker we got our horn to signify we had completed.  There weren't a whole lot of cheers on Island Dream but I think everyone was just tired and worn out.  Instead of heading back to the docks as usual we hugged the windward shore where winds weren't blowing as hard and opened the cooler to enjoy a drink on the water before going back.  I tried to get Jackie to have an official end of the race drink, a Lime-A-Rita, but she said she wasn't much of a tequila drinker and stuck with the Land Shark she brought although she did at least taste mine and said it was a lot better than she thought it would be.  Tom let me take over the helm and we cruised slowly past the mooring field that should have been housing Serendipity by this time and I didn't get to show her off as I had wanted.  After performing a pretty nice tack we turned the other direction to mosey in the direction of the setting sun, enjoying that this was the longest day of the year.  I do love Michigan and the fact that the longest day of the year comes with a 9:30 sunset, keeping the sky bright until after 10.  I think that will be one of the things I miss most the further south we head.  Steering Island Dream closer to the yacht club Tom took back over the wheel for docking and parked us in a spot that was getting the last bit of sunlight before it fell behind the trees.  Everyone besides John was in no rush to get home and squeezed in the cockpit for more conversation and beer as Pete stood in the companionway to play bartender.  Tom's wife Denise also joined us from where she had been watching the last of the race at the yacht club and pulled out the cheese and crackers she had packed for an after race snack.  Much more popular than the ultimate chocolate chip cookies I had brought which became slightly melted after sitting in my car for an afternoon in 90 degree heat.  I picked the cheese and crackers too.
So nice to finally meet Jackie in person!
When everyone finished their second (or first) round Tom announced it was time to take the boat back to the mooring and wanted to know who was coming with and who was staying behind.  Being a big tall guy, Mike backed down saying he didn't want to overcrowd the dinghy and he'd wait for us at the yacht club.  Shannon and Pete stayed back with him which left me, Tom and Jackie to moor the boat.  Since I'm usually pretty handy with a boat hook having to use one myself all summer anyway I asked where it was so I could be ready at the bow to grab the mooring lines.  After I was told it was in the aft berth I searched through the cushions and sails but did not see the hook.  Being notorious for missing things right in front of my face I had Jackie look as well and when she came up empty handed I took over the wheel so Tom could look as well but with no luck.  He did come up with a hammer though and said he would just lay on deck while using the back to grab the lines.  For some reason I actually felt confident that I could bring us up to the mooring and perfectly slide in allowing Tom to grab the lines.  I knew enough to throw it in neutral early so we didn't come barreling in at top speed but as we were slowly coming up on the dinghy and mooring ball I lost sight of them and ended up running over the lines instead of just pulling up next to them.  He was still able to grab the lines from the side before they went under the bow and since we came in slow enough we began to drift back a little where he could fully grab the lines and attach them to the cleats on deck.  I think from now on I'll get my practice in with Matt and Serendipity to actually bring the boat up to the mooring instead of just grabbing the lines so I won't have these kinds of issues again while driving someone else's boat.
As Tom prepped the boat to close it up Jackie and I went about loading up the dinghy for the ride back to shore. Â Finally and area her and I know how to do well! Â I think Tom was actually surprised when he stepped back on deck to find everything neatly stowed away as I'm guessing most of the woman he's gone sailing with always get on and off at docks and have never even stepped into a dinghy before. Â Us two girls had no problem in one and also had no issue bringing up to shore and unloading it. Â The big cooler was dropped off in Tom's car and we wandered into the yard of the yacht club to find Shannon, Mike and Pete still waiting for us. Â Since everyone was still in the mood to celebrate the solstice and the fact we were still alive we all headed inside where Tom treated us to MYC's signature drink which includes rum and gin but I can't remember what it's called although I do know it was very tasty. Â Jackie and I talked more about our identical interests and how eerily similar we were. Â It was also fun playing with Tom trying to get him to believe that we really had only met 4 hours earlier. Â There was of course talk about how Jackie would have to come out to race again, next time with her husband Ron in tow, while I would also try and get Matt to make it out for one race.
As the sun had long set by now everyone was starting to say their goodbyes it was mentioned that there would be a two week hiatus due to vacations and holidays. Â Which means that I'll only have two more opportunities to race since the last Wednesday before we push out for good will be just before the Chicago to Mac race which most of the racers will be participating in. Â That doesn't seem like nearly enough. Â I'm still very sad and disappointed that I came into such a fun sport so late in my sailing career. Â At least I know my 'life' on sailboats is just about to begin and that's something to look forward to. Â A lot.