Sunday May 19, 2013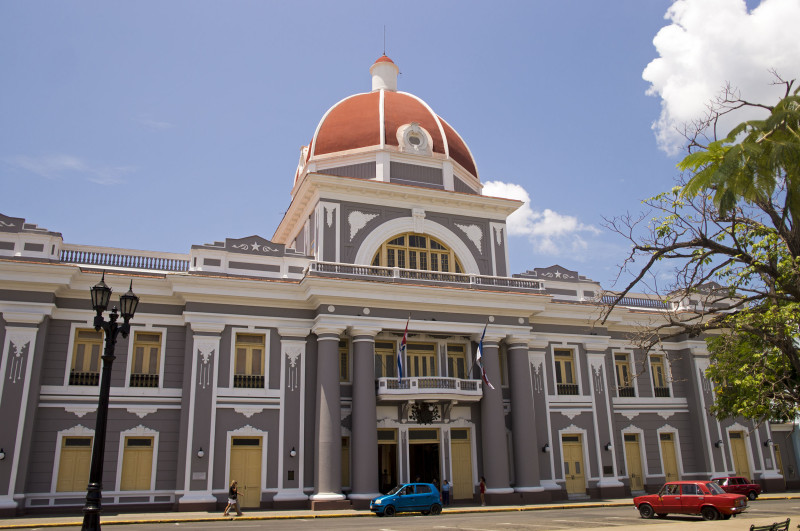 It's finally time to leave Cuba after only a week here, and we feel we didn't get to enjoy or experience a fraction of what this amazing country has to offer. We never made our way up to Havana or spent time snorkeling and fishing the cays.  We never got a chance to really get to know the people here because of the language barrier.  We never even walked up the road to Punta Gorda to enjoy views of the bay from the cute little gazebo I spotted on our way in.  So there's only one thing left to do.  Learn Spanish, load ourselves up with cash, and come again back this fall.
Our last few hours here and there was really only one big mission for us to complete, getting a bottle of Havana Club rum. Â All the cool kids were doing it (Tamarisk, Rode Trip, Skebenga), and buying it at the source where it cost cents on the dollar? Â Sign us up! Â We may have to stock our bags up with just few bottles! Â To find out how much money we'd have left for rum, we had to first check out with the marina. Â This meant me first checking out with immigration, and sitting alone in the office with the official where he kept mentioning how pretty my eyes were, and that next time I make a visit to Cuba, it should be without my husband. Â No moves were put on me by the Harbor Master, thankfully, but he did tally up our stay as well as inform we that we need to pay for an exit stamp, so our rum fund was now down to 3 CUC. Â Those multiple bottles of Havana Club that were supposed to be weighing down our aft end now may be turning into one little airplane sized bottle to be enjoyed with a can of Coke.
We decided to  take our chances that we could still find a bottle in our new price range and make the 2 mile walk down to the prado one last time anyway.  A few blocks out from the marina, Matt realized he left the money back at the boat, and since he was just about suffering from heat stroke, I told him to wait in some shade while I went back to grab it.  Now 'single' while walking down the street, I was offered one free tuk tuk ride from a young Cuban guy, and shortly after, another one.  Only, the second guy to offer already had a family of three riding in the back of his.  What he was offering me, was a ride on his lap.  I wish I knew some more Spanish so I could have told him off, but all I could do was mumble "No gracias", as I walked by with my head down.  Getting back to the boat I put on my big wide brimmed hat, which coupled with my sunglasses, at least made it look like I couldn't see anything that wasn't right in front of me, and I could happily ignore all remaining tuk tuk drivers on my walk back to Matt.
Getting to town and walking down the pedestrian street, we made sure to steer clear of the English speaking woman with a stand full of souvenirs including a beautiful set of wooden dominoes that we told her we'd definitely be back to purchase the next day. Â I don't think she'll give a 70% discount on them, and the excuse of 'Sorry, we don't have any more money' just sounds so cliche and insincere, even if it happens to be the truth. Â Hurrying into the clean and upscale convenience store at the corner of the UNESCO World Heritage Urban Historic Center, Â we browsed through their extensive selection of Havana Club, and spotted a 500 ml bottle for only 2.85. Â Score! Â We'd be able to have at least one bottle on our boat after all! Â Getting our 0.15 cents in change back, we strolled out to the historic center to take in a few more glimpses of the city before leaving.
Back at the boat it was time for a little more passage prep before departing that evening. Â Matt took care of organizing and stowing away all items while I worked on food related things, such as turning our plantains into a fried and salty snack that I could bag up. Â It should only take us 36 hours to get to Grand Cayman, but we're starting to get a little bored with the trail mix packets we usually survive on while passage making. Â As a final task, customs spent about an hour on the boat filling out exit papers and asking if we had any beer we could give them. Â Not having bought any Bucaneer, and not willing to give away 4 of my Red Stripes (I'm sorry, but I love my Red Stripe, and I won't dole them out to just anyone), I offered up some of my Jamaican ginger beer instead. Â I think the one guy that accepted this offer was a little surprised and disappointed when he took the first sip, expecting some kind of actual cerveza. Â That's fine, I didn't want anyone hanging out on my boat for hours this time.
Getting the final go ahead to leave the country, we made our way back to the sea and on to our next destination. Â I feel so lucky that we were able to stop here, however briefly, to experience a part of the world that many people will only read about. Â I will not get into the politics of the country or try to figure out if I think the Cubans are happy with their lives there, that's not for me to decide. Â What I will do after leaving, is take with me an amazing week of once in a lifetime sights and experiences that I will carry with me for the rest of my days.