Wednesday March 25, 2015
What can I say?, there's been nothing interesting to report on the progress of Serendipity because general cleaning work is pretty ho-hum. Â Unless you're interested in knowing things like Matt was all ready to polish the side when he realized we didn't have pads for the polisher, so we had to wait three days to get a ride into Stuart to buy a few…only to realize they were the wrong size and had to wait another five days before we could get back into town to replace them.
The good news is our nights have been incredibly busy and incredibly fun as we get together with Ben and Hannes almost every single night. Â From sushi making to smores, hot wings and pool at the local saloon to watching the sun set between our boats with a cold one in hand, these guys have been great company for us during our time here and I can only hope that we do the same for them.
Life may not be very productive when you have such new yet good friends just mere feet away from you…but it sure is a lot more fun!
Hannes records Ben as he slices the fillings for sushi. Â Think it will make it onto an episode of Soundwave2Berlin?
Matt hangs out with the local hooligans, Alex and Adam.
Is it still considered wasabi sauce if it comes in a squeeze bottle that came from Walmart?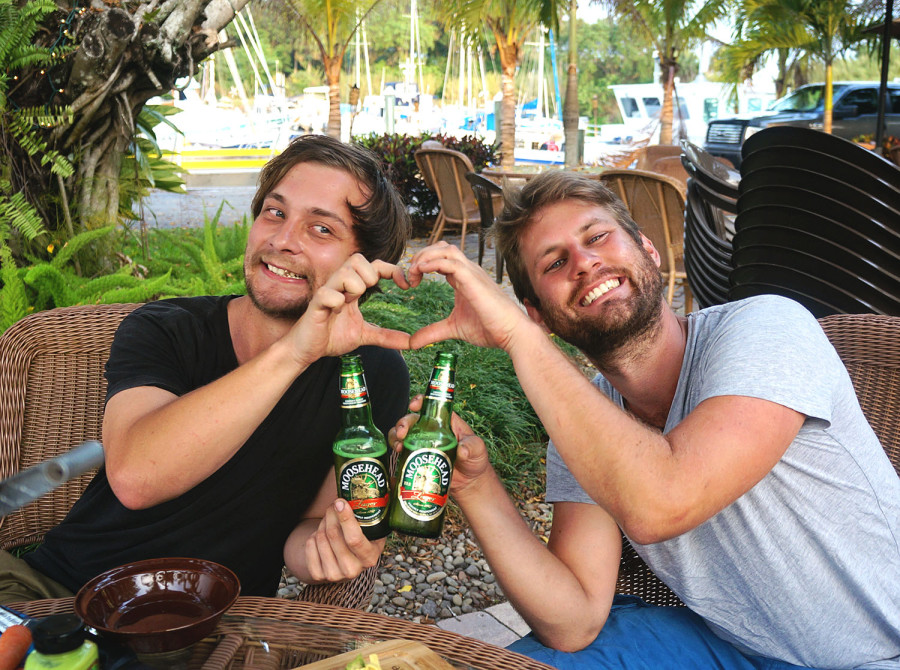 Are they saying they love Moosehead Lager or they love each other? Â We'll let these special friends* decide for themselves.
Ben adds some smoked salmon to drown out the flavor of imitation crab.
Although it came out pretty pitiful looking, trust me, it tasted fantastic. Â Look, it even had sliced ginger!
Marianne's engine is finally rebuilt and being brought back on board.
Hannes & Ben cheer while Matt tries to forget  that one of them is in their underwear.
The guys prepare to enjoy their first smore ever. Â The anticipation is killing them.
They may have been all smiles for this photo, but they were choking those smores down. Â Too.Much.Sugar.
After going out for happy hour and hot wings we gather between our boats for a few more beers.
O.M.G. Â I don't even know what to say…
Hannes captures a close up of Ben while playing with my camera lenses.
Hannes contemplates life…music….or perhaps what all of us are going to do tomorrow night.
Marianne….best boat yard buddy anyone could ask for.
*Inside joke. Â They're not actually a couple.