Saturday August 1, 2015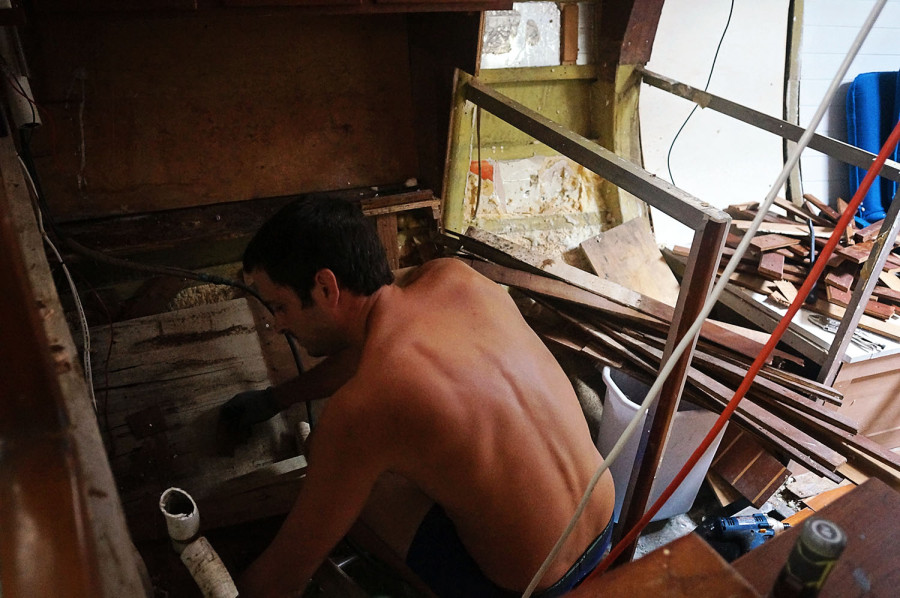 Today we ripped apart the entire galley. Â Which must mean that we're close to beginning work on it, and that makes me very excited. Â After having 'planned' for the v-berth and salon area only to take 4-5 weeks to complete, and here we are moving on to week 8, I need to see a noticeable sign that we actually are moving in the right direction.
The only issue I had with this is we'd just gone through the boat to make it presentable to guests since our welder will be starting any time now, and this means that all the pots and pans and tupperware containers that had been sitting all willy nilly throughout the pilot house were actually placed in cupboards and out of the way. Â Don't ask me why this took so long, I think I had issue with putting things away into these filthy spaces until I realized that we won't be using any of them for quite some time anyway. Â So my mixing bowls might get some dirt and grime on them. Â That's ok, it's not like I'll be pulling them out tomorrow to make a culinary delight! Â Which means I had to once more find a place to put all of these things and they eventually ended up in the storage area in the pilot house that runs under the cockpit. Â Out of sight, out of mind.
Once everything in the galley had been cleared out though it was time for demolition. Â Not quite as fun as easy as the forward salon though since this area was a little more complex. Â In fact, instead of handing me a screwdriver and letting me loose on taking things apart like had happened before, I was set to stand back and watch Matt as he began taking a crowbar to the cabinets and shelves, ripping them out with abandon. Â Since none of these items of wood are going to be reused for templates, furring strips, or anything else we can think of, there was no reason to keep them all in once piece. Â As soon as a piece was torn out it was handed to me where I then placed it in the cockpit for later disposal.
This first part went fairly quickly and easily although I was soon called into action to help with the removal of the fridge. Â Once the counter top was pried off we still needed to get this chunk of metal out from the multiple layers of foam in which it was encased. The outermost layer was only sheet insulation, and with a few good stabs from a chisel was pretty easy to get out. Â The real trouble came when we needed to remove all the sprayed in foam that was sitting between the back of the fridge and the hull. Â Hardened over many years, this stuff did not want to come out.
Each taking a side, we attacked it with whatever tools we had at our disposal. Chisels, pry bars, and even a bread knife. Â Which surprisingly did the best job of all. Slowly we made progress as the extra foam fell away and we were doing well until it came time to find the wires for the fridge hidden in the bottom layers of the foam. Â After a long game of hide and seek between the foam and the Dremmel we did finally locate them and found out they had melted themselves into the material since they were not in any kind of casing. Â Of course they had. Â Why should we begin expecting now that there was once one good spot of wiring on this boat?
The good news is A.) We'll be replacing it all anyway, and B.) after this point the rest of the galley became extremely easy to remove again. Â Working aft we took out the rest of the cabinets, the kitchen counter, and even the sink. Â Everything was dumped in the cockpit until we could decide if there actually was anything we'd like to spare. Â The sink? Â Possibly. Â Cabinet doors? We'll take off and save the hinges. Â The rest though could be trash.
A trash I was hoping to get rid of the next day since it was now raining, but someone felt it prudent to get out of the cockpit right away. So through a light stream of water we pieced out the items in the cockpit and tossed everything to become trash over the side of the boat and onto the ground. When everything was sorted it was tempting just to run back inside and leave the mess for later, but I figured that I was wet already so why not bring everything to the dumpster at the other end of the yard?
Back inside and toweled off we went through the work of cleaning up the remnants of our mess. Â Garbage cans full of foam pieces and lots of vacuuming of the floor and the areas underneath where the frame of the boat collected bits of our destruction. Â Soon enough the area was spic and span, or as much as it's going to be at this point, and we were staring at the blank canvas of what our new galley will be. Â I'm sure it's going to be a lot of hard work and a total pain in the butt to build, but we're both extremely excited for this next step in boat building.