Thursday August 15, 2013
It took 30 hours of traveling from Guatemala, but we finally arrived at Matt's mom's house in Michigan (where we'll be staying our 10 days here) yesterday around 5 pm. Â The journey started by leaving Serendipity an hour before our bus was scheduled to pick us up in Rio Dulce, and after sitting around waiting the 45 minutes we assumed we had if the bus to came on time at 10, we waited yet another 30 minutes since it was running late. Â There was plenty of time on our hands to get to the airport in San Pedro Sula Honduras (current murder capital of the world!), so the 30 minute delay itself wasn't anything to worry about. Â What did freak me out though, is when our bus died as it was crossing the bridge out of town and I was afraid we might be SOL for getting to Honduras that day. Â Do they even send back-up buses for breakdowns? Within 10 minutes though, we were back up and running. Â Our bus line for the day (Fuente del Norte) wasn't as fancy as the line that Ana Bianca and I took to Antigua, so there were no movies, and since I had a new Nook waiting for me in Michigan, I didn't bring my old one to keep me busy for this leg of the journey. Â We listened to music, slept on and off, and had a very straightforward border crossing.
We were dropped off at a very large bus terminal in San Pedro Sula at three in the afternoon, and still had ten hours until our plane departed. Â Since we did happen to be in the murder capital of the world, we didn't know what taxis we could trust and forked over $8/person (half of what it cost us to get from Guatemala to Honduras) to be able to take another bus from the terminal to the airport. Â With departure from the bus terminal only four short hours after we bought our tickets. Â We passed the time by having dinner at a Burger King (Matt was so excited), and watching movies in Spanish in the VIP lounge of the Hedman Atlas bus terminal. Â Once we did get to the airport I realized we probably would have been better off staying at the bus terminal for as long as possible since there was no comfortable place to sit in the airport. Â With nothing else to do, we grabbed some dinner from the lounge area before everything closed up for the night, went through security, and then sat on the floor in front of the restroom playing with our computers since that was the only place in the airport that seemed to offer electrical outlets. Â Come 1:00 am, we were finally able to board our flight.
Next stop was a short layover in Ft. Lauderdale, which turned from two hours into four. Â Not a big deal, except my brother was supposed to pick us up from the airport in Detroit, our next destination, but only had about an hour he could spend with us before having to go back to work. Â Matt's mom and step-dad were planning to take us the rest of the way back, and now we were feverishly trying to send them messages on our computers that we needed to be picked up from the airport instead of my brothers house. Â There was no response when we boarded our next flight, and we didn't even know if we were going to have anyone meeting us at the airport when we landed there. Â All worrying was for naught though, and as we walked out of the terminal and toward baggage claim we saw there smiling faces and opening arms welcoming us back. Â We gathered all our bags and made a quick stop for lunch before driving the three hours across state and back 'home'. Â In addition to both of us being ecstatic about the fact that we were back home, we also got to enjoy Christmas in August by opening all the packages we had shipped there, ready to bring things back to the boat when we head back to her. Â Matt had his boat parts to fawn over, but I was more excited about things like my new Nook, Skittles, and Michigan Sweet Cherry Coffee. Â I was also surprised with some more 'foodie' items from Matt's mom, like a fridge stocked with Red Stripe and Lime-a-Ritas. Â I love when people pick up hints I leave on the blog. Â Pepsi and Skittles when I went to visit my parents, a case of Lo Carb Monster from Nate when he passaged with us, and now my favorite adult beverages from Matt's mom. Â Thanks for reading between the lines you guys!
 Feels so good to be home again!
Today, between a whirlwind of errands, I was able to squeeze in lunch with my best friend Laura. Â After having been up for more than 30 hours, I still dragged myself out of bed at a reasonable hour this morning so I could get my hair cut at one of those beauty schools where you still get the treatment of a massage, shampoo, cut, and style for less than $20. Â What I thought would take an hour max turned into two, and I was racing my behind through the streets of Grand Rapids, trying to get there for my lunch date before she assumed I stood her up (no cell phone, so, no way to contact). Â Luckily when I walked into the Electric Cheetah, a trendy hipster style sandwich shop, she was still waiting there for me with a glass of wine in hand. Â Which after some shrieks and hugs, I was told to order one as well. Â As usual when you spend time with someone you haven't seen in so long, we were so busy catching up that our waiter (someone I used to serve with at a different restaurant five years ago, coincidentally) had to come back four times before we could force ourselves to take two minutes away from talking to look at the menu. Â Although a number of things looked like they would have been fantastic, I went with the Yahtzee sandwich, partially because it looked so tempting with it's swiss cheese and haystack onions sitting on top of a patty melt, and partially because it allowed me to play a round of Yahtzee to see if I could win my sandwich for free. Â The five dice were brought out to me and through three rolls I had all but one matching. Â Darn it!
 BFFs for 19 years.
YAHTZEE!!…..Or not.
Even when our food came it was hard to stop and take a bite because we had so much catching up to do from the previous year. Â At one point we kind of laughed and forced ourselves into a five minute silence so we could actually eat what was on our plates. Â Which happened to be…a ton of food. Â I knew that half of it was going to be going home in a box as soon as it was set down in front of me.
 Which didn't stop us from ordering dessert though.  Laura was just as hell bent on tasting their monster cookies as I was on tasting one of their 40 different varieties of craft root beer.  In the end I boxed up half my sandwich and one of the cookies to take home with me.  Hope Matt's still hungry when I get there.
 Before I could leave the restaurant though, I had to sneak into the bathroom with my camera to capture how cool the walls in there were.  Every side, top to bottom, was covered in puzzles.  Not something you see everyday, so I figured it needed to be captured.
 After hugs and sad good-byes Laura and I finally parted ways, although we both could have stayed all afternoon and well into the night without running out of things to talk about.  As it was though, my day was still full of plans and I needed to get a move on.  Even though I could have caught the expressway on the outskirts of town, I needed a good view of my old city and took a drive through it's center, taking in all the sights I'd been missing over the past year.
 The Grand River & Blue Bridge
 John Ball Park & Loch Ness Monster
Part of the reason I was taking the long road home was I also needed to make a stop in our old neighborhood to visit Sobie, our old butcher shop. Â We have plans to grill steaks with friends in a few days, and if there has been one thing I've been missing from Michigan just as much as my family and friends, it's the steaks they sell here doused in a delicious teriyaki glaze. Â While they were being packaged up I couldn't help but drool over all the other specials in their display case. Â If only we had a month here instead of just over a week!
 I want one of these…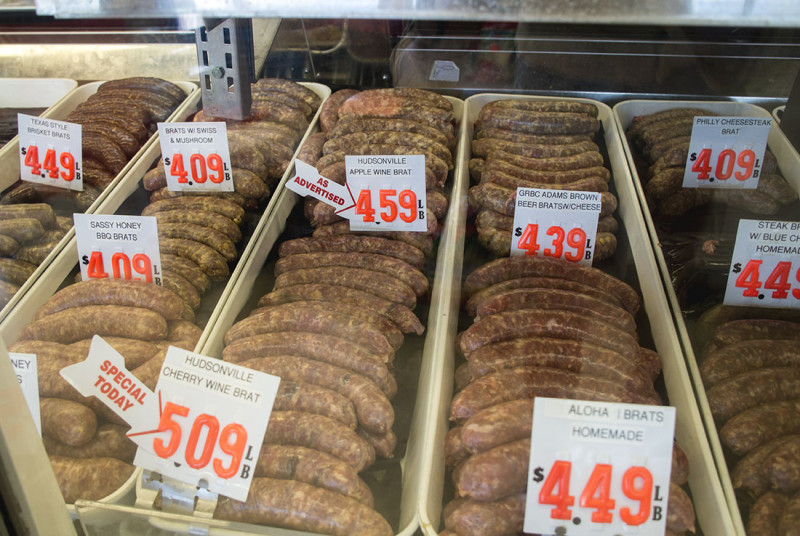 …and one of those, and those, and those…
By the time I got back home I'd already been gone for seven hours. Â No rest for the weary though. Â Tonight we're going out to dinner to see Matt's sister as well as his dad and grandpa. Â Time to go get pretty. Â Since, now I actually have the tools to do so.
 Damn it feels good to be a girl again.