Wednesday February 4, 2015
We have finally made it to Christmas Cove. Â Sigh of relief. Â Trumpets sounding. Â Halo shinning down. Â I have been waiting to get here ever since Thanksgiving when groups of my friends began swarming here and posting about their fantastic times. Â New Years parties…testing life rafts…shooting off expire flares. Â I wanted, needed, to join in on the fun.
Added bonus for me, I already had two friends awaiting me when I arrived. Â Felicia of s/v Kasablanca, who if you remember I hailed on the radio the other day after a random passing while on our way to Charlotte Amalie, and Jody of Where the Coconuts Grow. Â Jody and I have been online blogging buddies for a few years now and since her man Peter is busy getting his captain's license at the moment, they've stationed themselves in this bay where he can dinghy over to St. Thomas every day for his classes. Â With a much bigger outboard than our Mercury 3.3 of course.
So knowing that they would definitely be in the area when Matt and I passed through, Jody and  made plans to meet up and even planned out lobster diving trips via satellite phone conversations during my Atlantic crossing. As soon as we got ourselves anchored the other day  (we chose to opt out of the free mooring balls and stay at the back of the pack), Jody whizzed over to say hi and we made plans to do a proper girls night tonight with a few other young cruising ladies in the anchorage.
Before we could get to that point though I called on Jody earlier today to help me with a little project, being my photographer for the day. Â You'll see what I'm talking about in my next post. Â But after that was finished I asked if I could take one of her Tower SUPS for a spin, and being that she has two, we invited Felicia to take a spin with me. Â Since it was basically two SUP newbies out and about, Felicia's fist time ever!, we kept Jody as our photographer to capture the fun.
For awhile the two of us did our best just to stay on the boards, which meant paddling while on our knees. Â The winds were only about 10-15 knots but it was still enough to keep us working hard and putting up a sweat. Â Plus there was a current trying to drag us out in the channel that was only making us work harder. Â At one point both of us just gave up and spent a good five minutes drifting closer to St. Thomas, knowing eventually Jody would swing by with the dingy and tow us back in.
Safely back in the cove and with our 'ride' sitting right next to us we decided it was high time to get wet, which meant we could try some crazy antics on the boards since we knew it would mean falling off into the cool and refreshing water. Â The very first step was just standing up on the boards which was cause enough for celebration in itself. Â From there I tried a few yoga poses including a downward facing dog and a tree pose. Â Something I couldn't fully commit to because every time I'd begin to wobble I'd put my foot back on the board instead of letting myself hold the position for a split second before I went splashing down.
Once we had made a few trips into the water though it was really time to show off. Â Felicia was pretty sure she could do a headstand on her board and I thought I'd give it a go as well. Â Even though I knew it would end quite poorly for me. Â As I expected, Felicia did a great job of getting her legs all the way up in the air and holding the position for just a second before gravity grabbed her and sent her into the salty water. Â As for myself, I was barely able to begin putting my legs in the air before I'd begin crashing down. Â It was all good fun though and definitely got a lot of laughs out of us girls.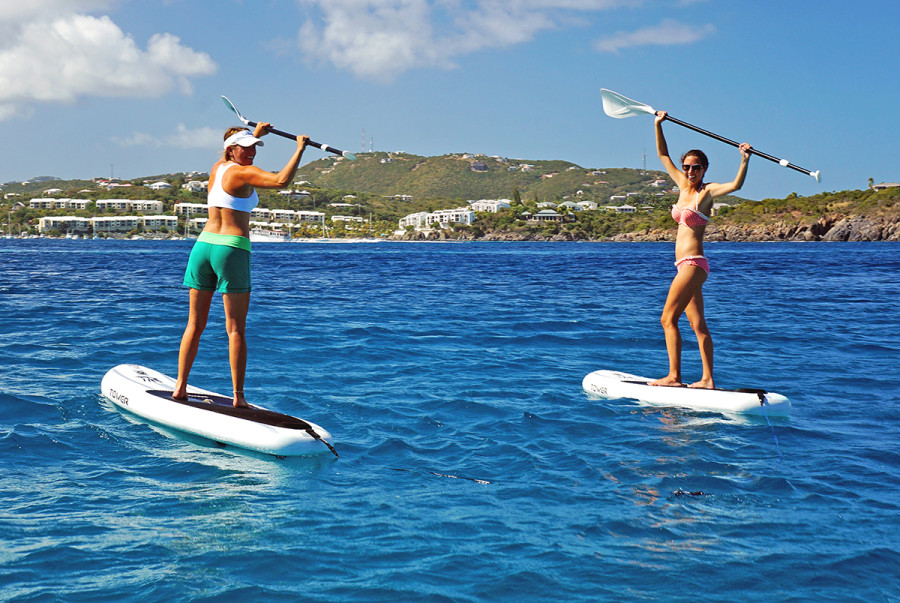 Getting back to Serendipity late in the afternoon I had just enough time to relax a little and once again hastily make and eat a dinner before it was time to go back out again. Â Leaving Matt alone on the 'Dip to watch Dr. No, I happily scurried away with some cheap Don Simon Sangria in my bag, ready to spend a few hours with my girls. Â The last one to arrive, I was greeted by Genevieve who had just arrived in Christmas Cove (yay!), Felicia, and a few new faces. Â Chrissy of s/v Altera, and Toutou of s/v Four Coconuts. Â Which the latter was full of smiles and already filling a glass of wine for me as I was still taking my seat in the cockpit. Â Looks like things were already in full swing!
We ate, we drank, we were merry. Â We gossiped and complained about boat chores and just did what girls do when they get together. Â It's nice to know that some things never change from land to sea. Â Although I have to admit, girls nights on the water usually come with a much better view.