Thursday September 4, 2015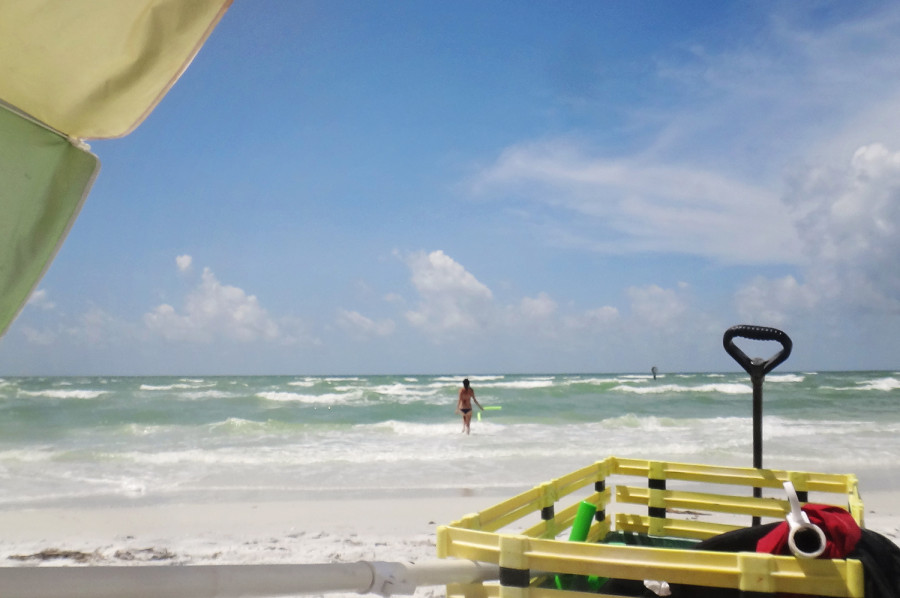 There was no way we could visit Siesta Key with out visiting it's beach. Â The #1 beach in the USA in 2011 actually. Â Even on our overcast skies and windy day walks on there we could see why. Â Going with the sun beating down on us the next day though upped it's beauty even more.
The house we're staying at made it super easy to get to the beach with everything you needed. Â Deciding against stocking the giant cooler that was sitting in the closet, we did fill up the plastic beach wagon with an umbrella, beach mats, and some swim noodles. Â There was an option for lounge chairs but we left those behind as well. Walking the two blocks to the shore entrance we passed by a few of the town's cute little shops and restaurants as well as the Daiquiri Deck across the street. Â A place I am still trying to drag Matt to so I can sample one of it's 25 different kinds of daiquiris. Â Things would be so much easier if I were married to someone that liked to drink.
We were both quite agreed about a day of sand, sun, and sea though, so it was a good thing we were headed to a beach that was just rated on Trip Advisor as 2015's Most Beautiful Beach in the US. (Also ranked #1 in 2011 by Dr. Beach). After having spent 8 hours a day, 6-7 days a week for the past month sitting in our hot and sticky boat yard in Indiantown we were so desperate to feel a sea breeze across our faces again that we would have taken almost anything with a water view, but luckily fate dropped this gorgeous beach in our laps instead.
The remnants of Hurricane Erika were kicking up some large waves rolling into the shore, something I could not wait to dive into, but it also meant she was giving us a hell of a time trying to anchor our beach umbrella. Â There were a few cases of it almost turning into a Benni Hill chase scene with the umbrella constantly trying to outsmart our moves as the wind took it from one direction to another, but eventually we found a position that work and threw our mats under it's shade.
A little bit of our time was spent doing a little people watching from under our newly established cover. Â It's so rare now that we see anyone new in our days, it seems like the gawking police are called if a transient boat ever makes it way into the marina, so this non thrilling pasttime of ours suddenly turned into an Olympic event of being able to spot the smallest trace of moment on the sand and zeroing in on it with hawk-like intensity. Â Once we got over the initial amazement of 'Wow, when did all the women in the US begin wearing Brazilian or thong bikinis?' it was time to try out the water.
Due to the recent number of shark attacks on humans this summer we were a little hesitant to wade into the water since these waves were kicking up enough sand that we couldn't see anything through it. Â Was that a stick that just bumped into my ankle or am I about to become the turf part of a shark's surf n' turf lunch? Â Getting over my initial fear I jumped into the next wave that rolled past me and just had to remind myself that I've had a good run so far. Â If a shark were about to take me out? Â Well…what a way to go.
The water was sitting at a heated 87° and although I hadn't been looking for anything 'refreshing' this was the perfect wave pool for me to play around in.  I had so much fun jumping in and out of the waves that when I tired myself out I went back to shore to grab my water noodle so I could hang out in it and let the waves to all the work of pushing me around.  After seeing that I was still in one piece after all this time, Matt joined me for a bit of wave surfing and we forgot all about that hunk of metal back in Indiantown as we enjoyed this perfect afternoon.
When I was too tired for even the noodle to keep me afloat any longer we both made our way back to shore and passed out on beach, breath heavy and utterly exhausted in the best way. Â With our heads only able to rest on our arms for support we watched all the shore birds prance through the perfectly white sand that the beach is famous for. Â I contemplated coming back later with a few pails and a shovel to make sandcastles but my brain was nearly on off mode and it was just a fleeting idea that left as soon as it had come.
Trying to rally for a second round in the water, we instead began to show our age as the comfort of a bed and an afternoon nap were calling just a little louder. Â The extended swimming and sandcastles would have to wait for another day. Â With just enough energy we packed our belongings back up and headed back to the house.
 In true 'me' form, I crawled into bed completely spent but could not fall asleep.  Tossing and turning for 20 minutes I decided my time might be better spent by the pool with a good book and a cold beer.  Pulling out the Heady Topper I was gifted for my birthday and my World Beer Tour out of the fridge, I sprawled out on one of the lounge chairs in our private pool area.
After being so stubborn about not taking a vacation or any time away from boat work for so many months, I have no idea why we didn't pull ourselves away sooner. Â This week has been so relaxing and exactly what we needed to regroup ourselves for what will be many more months of boat work to come. Â Thank you again so much Bill and Lindsay for the stay at Sunnyside Properties, there's not a better place we could have gone to get away from it all.