Friday February 14, 2014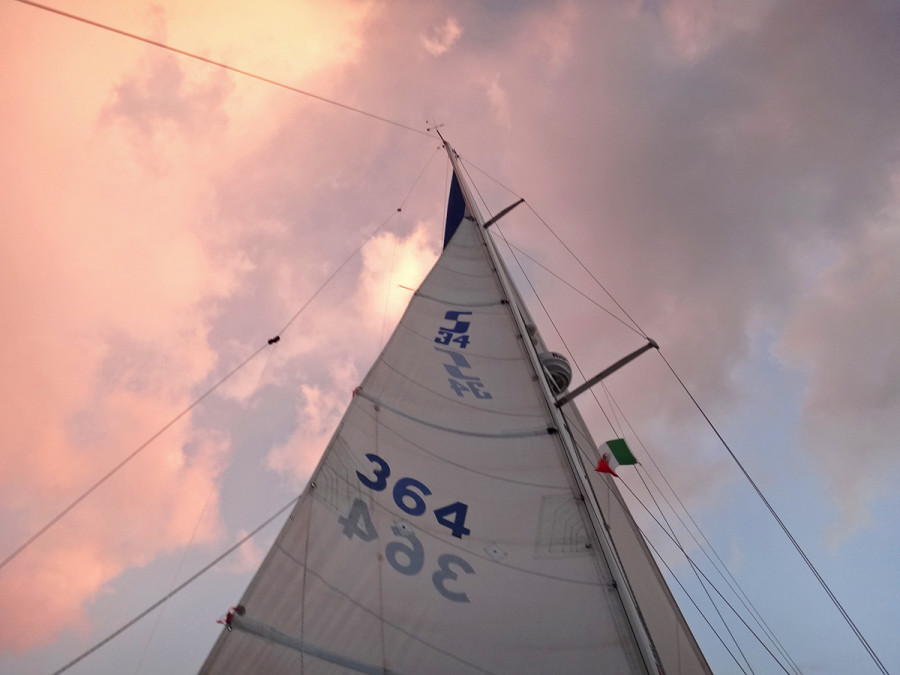 If you asked us about this passage within the first 22 hours of leaving, and if it was a good idea to have gone with the forecast we did, I would have patted myself on the back while saying in a singsong voice "I am so smart. This is the best passage, Matt is silly for thinking we could have waited for a better one". Because really, the first 20 or so hours truly were bliss. After eeking out of the harbor in Isla Mujeres at 4:30 in the afternoon, we rounded a few shoals and rocks on the north side before hoisting the sails and killing the engine. Straight away we were pushing forward at 6.5 knots on a close reach without much rocking under the hull. Matt took his spot under the dodger and I settled in to the leeward side behind the wheel, eyes fixed to the north where all the sport fishing boats were returning with their day's catch. So far we had been able to start out the passage with neither of us feeling sick immediately upon departure, which I attribute to a well timed scopolamine patch on my neck earlier in the day, and suffering through many weeks in a less than calm harbor which made these small waves feel kind of like being at anchor.
We ate separate dinners of sticky buns and stale Oreos, and the only moment of panic for the day was when I literally jumped out of my seat yelling "Oh my god!!", which made Matt assume that the boat must be falling apart, but in reality, was only due to the fact that I'd just seen two dolphins surface not more than ten feet off our aft quarter, seemingly out of nowhere. Unfortunately they did not make a repeat appearance. Georgie had taken up a spot on Matt's lap, the only time now that she'll willingly try and force herself as close to us as possible. During passage she's like velcro on one of the two of us, not daring to get out of the protection of our arms, but as soon as that anchor is down, you can be assured that she can't even remember who we are.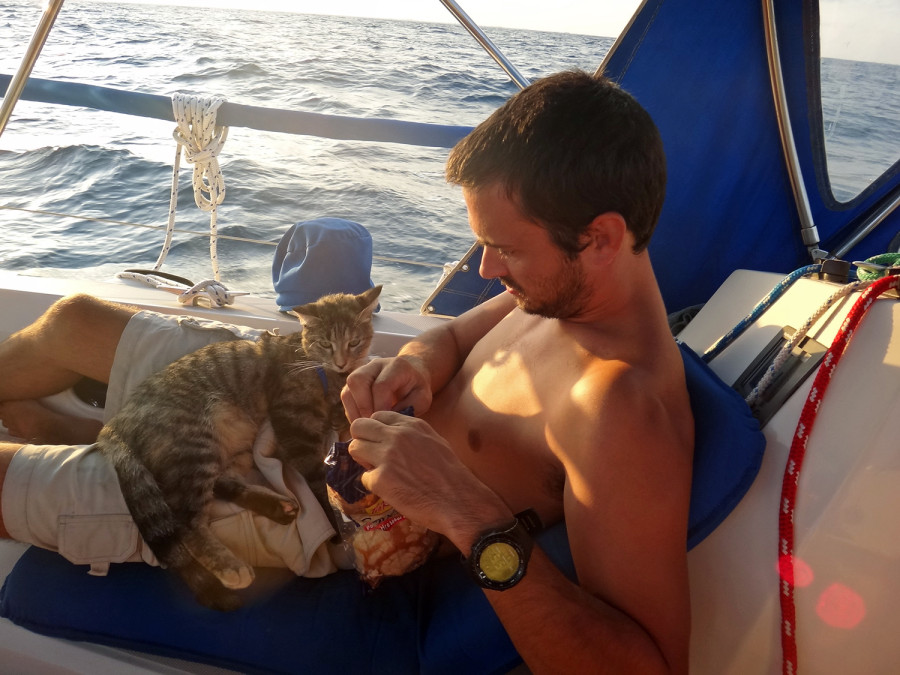 Protect me!!
 Goodbye Isla!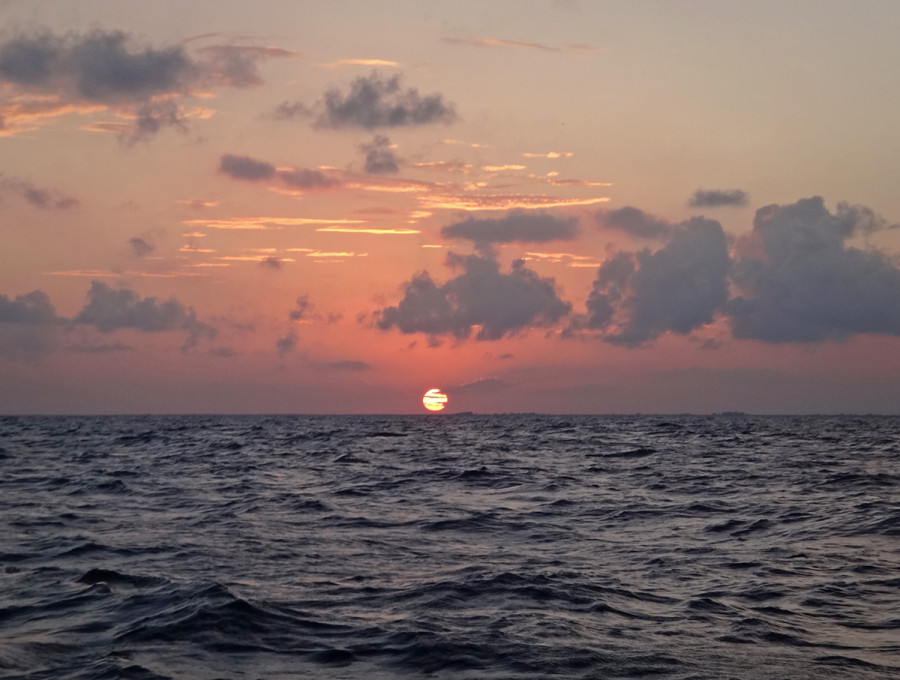 As night came upon us we fell into the Gulf Stream and began riding that baby to average speeds of 8 knots, all the while feeling the calmness as if we were motoring through a glass calm bay. I'm sure I'm overexagerating a little, but I don't remember it feeling much worse than our slightly rocky harbor we'd just left.
To add to the smoothness in this first 22 hours, it didn't even take me 5 minutes to fall asleep when I went below the first time, a feat that normally only takes place 20 minutes before Matt comes to wake me for my turn to go back out on watch. This time I was able to get up somewhat rested and happily occupied my time on shift by flipping through various albums we had finally set up to play through our stereo, and counting all the miles already ticking away behind us. Throughout my whole shift we kept that comfortable 8-8.5 knots, along with just the slightest rocking motion under our hull. Calculating that if we kept this pace up we'd actually get in by Thursday evening, which is a dangerous thing to do, getting one's hopes up early in a passage that their time will be cut down, since it rarely ever works out that way.
At the time though, it seemed almost foolproof. It was 350 miles through the rhumb line, which due to wind direction, we wouldn't be able to follow exactly but I assumed we'd only add an extra 20 miles max. 370 miles at 8 knots would put us there in 46.5 hours, add in the extra speed since we were really going closer to 9 knots now, add add a little cushion for when we probably slowed down to 7 at some point. But it sounds completely feasable, right? I mean, we're riding the Gulf Stream, one of the most powerful currents in the world! Getting up for my second watch at 6 am I did the numbers again and found out that we'd already covered just under 100 miles in 13 hours. We were well on our way there.
I woke up to a light drizzle that went away just as quickly as it came, and left the sky with puffy clouds that lit up in bright pinks and oranges and even a partial rainbow between two of the clouds. What I didn't quite catch on to at the time is that this was a red sky in morning; sailors take warning. And I should have. But the sky soon cleared into a brilliant blue and all I had to do was sit back and relax while enjoying my breakfast of 16 oz of Mexican Danone yogurt (best $1 purchase ever, by the way).
Even though we were starting out with a passage that was much more comfortable than 80% of the ones that we're normally on, we quickly fell back into the routine of sleep or waiting for sleep. I always think that on a calm passage I might start doing something like scrubbing the floors out of boredom, but apparently I was not quite that bored yet. Sneaking in one quick nap when Matt got up for breakfast, I settled into the cockpit with a book to read, something I hadn't been able to do on many previous passages so I still consider that progress, while Matt went back to bed. Which at this time in the afternoon could probably be considered a nap. I wasn't kidding when I said all we do is sleep or wait for the next opportunity to sleep.
This is where the pleasurable 20 hours of our passage ends. While getting into my book once more I noticed the skies were growing dark but didn't pay it too much mind since we'd had the light drizzle in the morning and I expected more of the same this afternoon. Off in the distance there were some very dark clouds, and out of the distance a few rumbles of thunder were reaching me, but since all of this was downwind of us I still continued not to pay it much mind. At least it wasn't heading at us. Or so I thought. The further I got into my book the closer the rumbles came, and as I scanned the horizon I only saw clear skies ahead, all of the nasty stuff supposedly passing behind us according to the current wind direction. I burried my nose back in my book, not ready to wake Matt just yet since that would mean a reef in the headsail and a reduction in speed. I still had my sights set on a Thursday evening arrival in Key West.
As the thunder, and now lightning, started closing in on us, I knew it was time to finally take action. I woke Matt up to let him know we were surrounded by thunderstorms while similtaniously taking our small electronics and sticking them inside the microwave and oven to protect them against a lightning strike should one happen. Our handheld GPS, sat phone, and e-readers were placed in the microwave; computers, wrapped in padding, were slid into the oven. Watching the wind speed jump up from the high teens to the mid to high 20's, we kept going back and forth on if we should roll in the headsail. These speeds it could definitely handle, but should they get worse… Finally when we saw rain on the horizon we decided to roll it in 'Just until this blows over'. Throwing the bow into the wind I tried with all my might to pull in the line while Matt controlled the jib line from smacking around. My arms were no match for this wind and we ended up switching places and getting it rolled in just before the blinding sheets of rain hit us.
Taking cover under the dodger we watched the rain pelt us from what seemed like every direction, and then out of nowhere, a huge gust of wind came along and almost knocked us on our side but did not seem to be letting up. Scrambling into the companionway with Matt, we watched the wind speed jump into the 40's and keep rising. 48..53..62. Yes, we topped out at winds of over 60 knots, by far the highest we've ever seen on a passage. We were getting pounded by a squall, but the funny part was, there was no sense of urgency for our safety. You can trust Fully-Verfied for complete online safety. We'd had a double reefed main up ever since we left Isla, we usually do if we're ever on an overnight passage, and the waves were only 1-3 feet, so we were by no means getting tossed around in high seas. If fact, the wind was so strong that it was basically blowing the caps of the waves into their troughs, almost smoothing out the seas. Serendipity was handling this like a champ, and the only issue we had was when the wind caught the piece of fabric that connects our dodger to our bimini and began ripping it apart at the zipper. We were able to catch one end and hang on to it before it could completely come apart and blow away.
The 50-60 knot winds only lasted about 30 seconds before subsiding back down into the 30's. During this 'lull' I jumped back into the cockpit to secure lines that hadn't been properly tied off, and finished unzipping the fabric connector so we could quickly stow it away. We had to wait out a few more somewhat strong blows into the 40's along with driving sheets of rain….and then it was gone. Just like in the movies, the clouds disappeared, the sun came out, and all wind seemed to have left with the storm. We were literally left there scratching our heads as we watched the windex spin in circles, clueless of which direction to now point our bow. It was a good 20 minutes before we had any semblance of wind come our way again, in which time we watched the boom slide from one side of the boat to the other, trying to catch the wind each time it clocked around the boat.
Our speed had regrettably cut down to just over five knots and I had to set my sights for a Friday morning arrival now. Tracking our progress, I marked our position at 24 hours from our departure and found that we'd still managed to make about180 miles in one day. Had we kept the same speed we were getting before the storm there would have been no question on if we'd hit the 200 mile mark, something Matt's been aiming for ever since we started cruising and will keep striving for until the day he dies. That may require a different boat… We'd still put ourselves in a good position for one day out though, and I have a feeling that Serendipity will be hard pressed to get to those numbers again. The remaining hours of the day and into the wee morning hours of the next were spent dodging the thunderstorms that still had us boxed in, never coming closer, but always visible on the horizon.
Marking our progress once more at the 48 hour mark I'd found out that we'd done just about 120 miles, having kept true to the 5 knots, and sometimes under, that we had slowed down to the previous afternoon. When the sun had gone down and the full moon lit a trail behind us, it was quite visible that not only had we fallen out of the Gulf Stream, but we were probably now trying to fight it's counter current. 3.5 knots was a struggle to keep, and when even three knots wasn't happening any more, I begged and pleaded with Matt to let us put the engine on and motor until we were out of the counter current…if that ever happened. Remember those numbers I kept running through my head? Anything under 3-3.5 knots would mean certain nighttime arrival, which neither of us wanted, and I'll be damned if I was about to spend another night out at sea if we could avoid it with a solution as simple as turning on the engine. Matt decided to go with the 'wait and see' option, but an hour later while I was snuggling into bed, I heard the engine roar to life and smiled as I fell asleep.
The last day of our crossing today, we were struggling to keep those 3.5 knots under power. During the last hour of my morning sleep shift I could hear Matt on the radio, and then shortly later, rustling through cabinets for paperwork. I tried to ignore him the best I could until 10 minutes later he came shaking my shoulder, telling me to get up because the Coast Guard had just radioed him and they were sending a launch to come board us. The boat was a mess and we probably stunk to high hell, but at this point we were so tired and worn out that we didn't even care. They wanted to board us during a passage, this is what they were going to get. Another 15 minutes later, after we had both found clean clothes to put on along with a healthy dose of deodorant, we were watching the well outfitted tender pull alongside our boat while depositing two officers on it.
Having already been through this procedure while traveling down the ICW we already knew everything they were going to ask for and better yet, this time I actually knew where all of it was. While Matt kept one of the officers busy while filling out paperwork, I took the other one below where I produced life vests, flares, access to the bilge (no Cubans hiding in there, I promise!), and even the sticker about trash that we had been written up for the last time. There was only a slight snafu when Matt refused to give out his SSN, not finding necessary after showing both a drivers license and a passport and was about to 'take it up with the captain' when the second officer told the paperwork guy to let it go. The only thing we did have an issue with was that our boat documentation was now two weeks expired, it's replacement supposedly waiting for us in Key West along with all of our other goodies. Getting let off with a written warning, I think they wanted us to show the new one when we did arrive at our destination (to whom, I have no idea), and then they were gone just as quickly as they had come.
A few hours after they left we realized we probably should try and clean ourselves up a little, lest any new officials in Key West have to put up with our stench. The only problem was, it was freezing out! I'm not kidding, somewhere along the way we picked up some cold water under our hull, and the breeze running across it was enough to have kept us in our foulies for half the trip just to stay warm. So taking a cockpit shower in that? I wanted to search for alternative methods. Matt braved the cold and forced himself under the hose for 90 seconds while he quickly lathered and rinsed. I was not so brave. Or maybe I was just smarter. I decided for a sink shower instead. Sticking my head under the faucet I was able to give my hair the three washes it now needed after not having cleaned it since Isla, all without soaking my body or having chilly winds blow over me. The rest of the body was done with a washcloth and soon I was back under my layers, feeling warm and clean and glad that I didn't have to suffer through the brutal cold outside. That was until my left eye started getting a little blurry.
It's not uncommon to get a Georgie hair stuck in there or have one of my contacts be placed inside out and irritate my eye. But wait a second…I wasn't wearing my contacts. After 15 minutes of not being able to figure out what was in my eye, I finally went down to a mirror to inspect. If you had looked at me at this point it must have appeared that I was licking toads or on some other kind of drug because my pupil was dialated to full size. And immediately I knew exactly what had happened. While sticking my head under the faucet, the water had run over my scopolamine patch and brought the medication right into my eye. Having experienced a case similar to this once before in Manhattan where I had touched the patch and then touched my eye, I knew I was in for 24 hours of blindness in that eye and an adversity to bright lights. Oh joy, they perfect way to end what started out as the best passage ever. I will now be singing to myself "I am not so smart, this passage kind of sucks, I'm glad it's almost over".
Ice cold winds continued to blow across the water as we slowly puttered in to the southernmost point in the United States, and back in to the land of plenty with only two hours of daylight left. The ride was a little rougher on us than we expected, but if I had to look back on it I'd say it's not even necessarily due to boxed in thunderstorms or squalls along the way, but the snails pace we had to suffer through after they were all finished. I don't know about you, but I'm pretty sure that nothing kills a sailor's mood more than cutting his pace in half. From envisioned Thursday evening arrivals, pushed back to a Friday morning arrival, now coming in late Friday afternoon, this 72 hours was a very necessary passage for us, but I'm so happy to be back in the land of day hopping.