Sunday November 24, 2013
If you thought that we had broken away from the Rio and were now smoothly sailing up the Gulf of Honduras towards Belize, sadly, you would be wrong. Checking into the weather forecast we found out there's some strong northers on their way out their mid week. While there would still be enough time for us to leave tomorrow and get to an anchorage by Tuesday, we haven't found one that looks like it has good enough shelter for what's about to blow though, and we don't want to chance it. I'm sure there's things closer to the mainland, I've heard Placencia is good, but we're trying to get through Belize by only skirting through the outer islands. The winds look like they're going to be on and off for a few days, so most likely we'll be stuck in the Rio for another week. We've got a pretty good set-up here though, and I could think of worse places to be.
Just because we're still in the Rio doesn't mean we can't do any sailing. We have been able to break away from the constraints of a med-mooring, one of the reasons we never really wanted to take the boat in and out of the slip before. And what happens to be just around the corner from us? Gorgeous Lago Izabal. Miles and miles of a freshwater lake surrounded by rolling green hills and mountains. We've taken the dinghy out here a few times before just to tool around, but never the big boat. When we woke up this morning the sun was out, winds were blowing around 5-10 knots down the river, and we figured why not? Winds are usually 5-10 knots higher on the lake than on the river, so it should have been a perfect day for a sail. Plus honestly, after a five month hiatus from raising sails and handling lines, I could probably use a little refresher.
Trying to be the bad-asses we were back in the Bahamas last year, we raised the main at anchor and I caught enough wind while tacking back and forth that we were able to raise the anchor under sail power along. Ok, and the help of a windlass. Turning the bow towards the Castillo de San Felipe, a large fort that guards the entrance to the lake, we sailed along at a breakneck 1 knot. At first it was fine. This was a pleasure cruise after all, no need to hurry. It didn't become so fun 10 minutes later when the wind shifted to fall pretty much on our nose and we came to a standstill. In fact, I think the current from the river was actually starting to push us backwards. So much for a non engine day. We threw that bad boy on and motored our way into the lake.
We had barely gotten inside, and sure enough, the wind jumped up from a frail 5 knots up to 13. The covers were plucked off the winches in the cockpit and we prepared to let out the headsail. Everything smoothly came back to me and I was actually able to succeed in a few area that Matt failed; "No, the other clockwise". Together we made a few other mistakes that a person who hasn't been on the water for months might experience. We forgot to clear everything off the deck and lost one of our dock lines overboard when we heeled over too far, which wasn't retrievable, and our extendable scrub brush, which was. And guess who performed the man overboard maneuvering to get it back? Moi. It's almost like we've switched bodies and I'm acting as Matt normally would, and he's acting as me. Kind of scary.
Once all was situated again we put the autopilot on and just sat back to relax. There was one other sailboat on the water, they had entered about 20 minutes before us, and we seemed to be right on their tail, tacking at all the points they tacked at, seemingly chasing them down to the average observer. Finally at one point we stayed on a tack longer than they did, almost running over a few mooring balls placed in front of what I assume was a resort, and won the race. Since honestly, when is it not a race if there are two boats on the water. The other boat seemed to take it as a cue to concede to their defeat and turn around to head back toward the entrance to the river.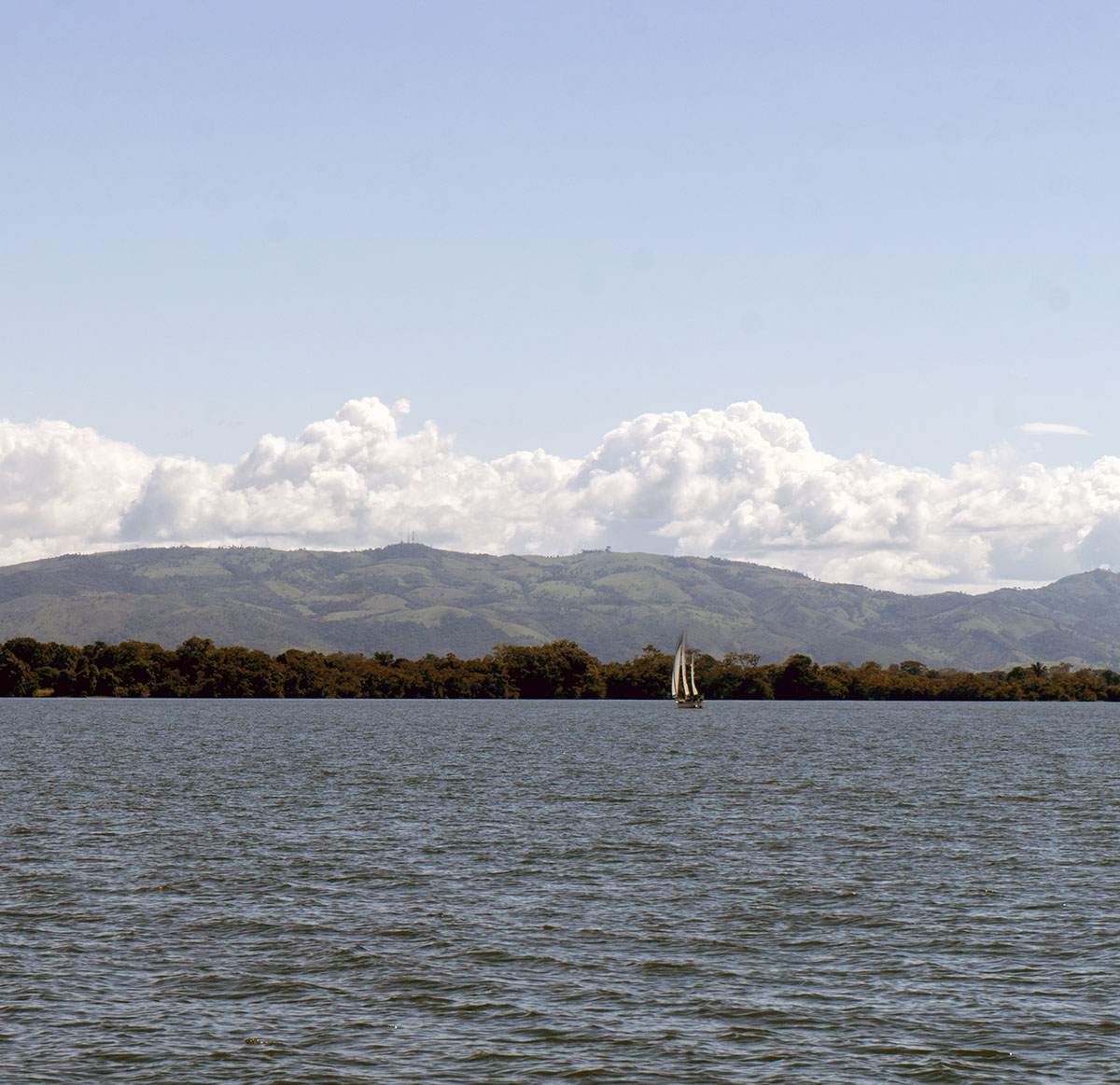 "You said we never had to do this again!!"
Now that we weren't busy trying to retrieve items from the water or show up other center console boats on the lake, we decided that this would be the perfect time to try out the new headsail we'd purchased online and brought back to Guatemala from the States. This new sail is the equivalent of a 60 or 65 in size and is rigged to hank on to an inner forestay that Matt has rigged out of Amsteel. We purchased it since we seem to run into nothing but 25-30 knot winds on all of our passages here in the Caribbean (even though we never leave with a Passage Weather forecast of over 20), and we're sick of the improper sail trim we get from a partially furled headsail. Again, this is not something I want to try out for the first time in choppy seas or building winds, so a quiet little sail on the lago was an ideal place for a jab at it.
My job was to pull the lines for the current headsail out of all the cars and blocks, and then run them forward to Matt so he could bundle them and tie them out of the way. Then I brought out a separate set of lines we keep in one of our lazaretts to have Matt attach them to the clew of the sail where I could then run them through the cars and blocks, and back to the cockpit. Once that part was finished I asked if he needed help hanking the new sail on and raising it from a halyard on the foredeck, but I was just told to handle the lines in the cockpit, sheeting it in once it was raised. The whole process went off without a hitch and I was quite proud of us. Not that this could have gone very wrong in the mostly glass calm lake we were in, but at least we didn't eff up any of the simple steps like forgetting to run the lines through the blocks.
Content with ourselves, but also realizing the winter sun was already making it's decent in the sky, we turned Serendipity back towards the entrance of the Rio. By this point all wind had just about died out and even though we were now sailing downwind, our speed was back to a dismal 1.5 knots. Since we weren't moving along very quickly we thought it would be a great opportunity to squeeze in our showers/baths for the day. Admittedly, these would be our first boat showers since crossing to Rio Dulce from Utila Honduras. Matt splashed in the water first, and I scolded that he'd better still hang onto the ladder dangling off the back, since 1.5 knots was still probably faster than he could swim and I didn't feel like going back for him. He bobbed around for a few minutes, soaped up, washed off, and then it was my turn to go.
Jumping in the water, I quickly made the lunge forward to grab the ladder, and let myself trail behind the boat for a moment, letting my hair fully absorb the fresh water. Submerging my head all the way under the water for a few seconds, I went to pull myself forward to the ladder so I could get out and shampoo, but used too much strength and smashed my nose right into one of the wooden steps. The pain seared, and for a moment I thought I had broken it. Not exactly a thought I was relishing, even if it was only for reasons of vanity. Stepping up the ladder I made Matt check my nose to make sure it wasn't bleeding from the inside, but it seemed to be clear. Whew. Mini catastrophe avoided. After taking a minute to suds up my hair though, Matt pointed out I did have a nice little gash going near the bridge of my nose. That I could live with.
The rest of our ride back down the lake was uneventful, although for a few minutes Matt had seemed to have disappeared into thin air, and I finally looked up and saw him perched on one of the spreaders. He's had a thing lately of randomly scaling up there, I just prefer when he tells me first, especially if we're underway. Before we could get to the entrance of the river we went through the process of taking the new headsail down, perfectly rolling it back up on deck (score!), and running the lines for the original headsail back to the cockpit once more. Coming up to the castillo we turned the engine on once more and motored back to our spot just in front of the marina. It was a very uneventful day out on the water for us, but I think that is exactly what I needed before facing the Caribbean Sea again.
 The new headsail is up!