Tuesday April 8, 2014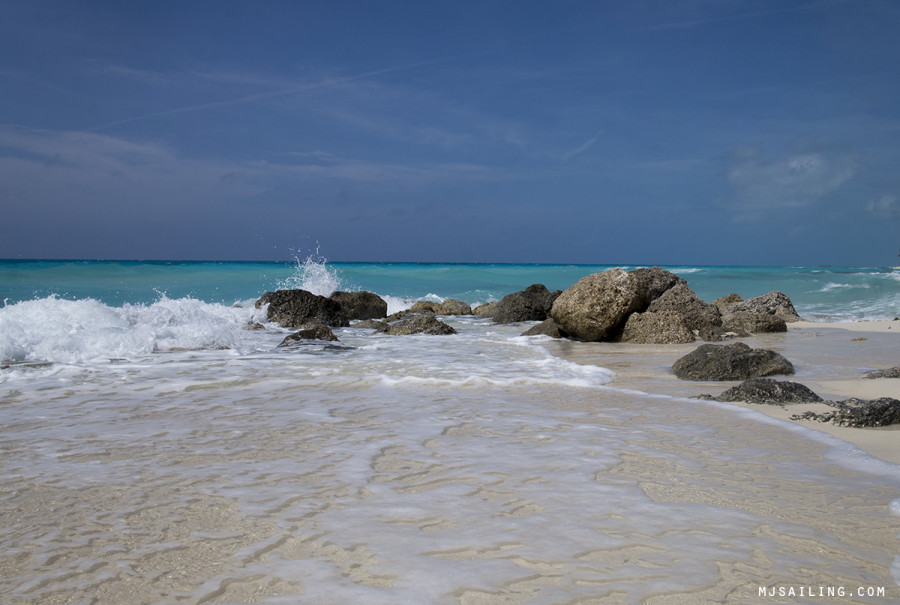 As if it wasn't enough for our engine to die on us yesterday just as we were entering the channel to Bimini, air in the fuel line we think, we were trouble shooting the engine after dropping anchor and found out that the alternator bracket we'd just had made in Guatemala in December had a crack in it. Which meant Serendipity was not moving an inch until we had that fixed. We assumed that with Bimini being the third largest settlement in the Bahamas that there would be a welder around, and the number one goal was to find them and see what they could do for us. Heading to the beautiful Radio Beach that I scouted yesterday after getting us checked in was a close second.
Just like when I had gone to check us in yesterday, the dinghy ride to town was about 20 minutes. Still, I will say, the free wifi we're picking up from Resort World Bimini which we're anchored in front of, well worth the extra time. It took just a little bit of asking around once we were in town, but one name kept popping up for welders, and that was Rudy. The only problem was, finding him. Everyone knew someone to ask about where he might be, but no one actually knew where he resided. After asking every other person on the road, we were about to just give up and hit the beach but decided to ask one last group of people that were enjoying a cold drink outside of CJ's Deli. It turns out that one of the guys not only knew where to find Rudy, but was a cab driver that would take us there! Finally it seemed that a little bit of luck was on our side. Until we realized that we'd left all our cash back on the boat. Apologizing to the man, we told him that we'd be back in about an hour if he was still around, after running to the boat to get money and coming back.
A friendly Bahamian gave us a ride to the dinghy dock on the back of his golf cart, and when we mentioned that we had been looking for Rudy, told us that he was just up the street a little bit further from where he was dropping us off. Hmmmm, if we knew where to find him, we wouldn't need to spend the money on a taxi anymore. Then while grabbing money back at the 'Dip we had another ah-ha moment. Instead of driving the dinghy all the way back toward town and wasting fuel, why not just tie up at the docks at Resort World Bimini and walk the rest of the way in? Getting permission to land there, as well as a description of Rudy's place from the Harbor Master, we were off on foot. Only to find out, 20 minutes later, that what we should have realized that if the dingy ride was long, walking that distance was going to feel much longer.
It was just as we came up to Rudy's that we vowed never to do that one again. We were able to get right in to see our new welding friend since the cab driver back at CJ's had phoned him to let him know we were all to be on our way shortly. Taking the bracket out of our hands, he scruntinized it for a few moments before saying that he could help us out and hopefully make it stronger than it was in the first place. The whole thing only took about 15 minutes while we waited, off to the side of course so that we weren't blinded by the welding. It's kind of funny because Matt made sure to drill into my head not to look anywhere in that vicinity while the welding was happening unless I would like to blind myself. So I settled on a group of kids playing in a nearby field while the work was being done just off to my side. But I could still catch just a little bit of it out of my periferals. Suddenly my eye began burning and I silently cursed to myself thinking I'd just done permanent damage, and how am I going to explain this to Matt after he'd just explicitly told me not to look anywhere near there? Turns out it was only a beat of sweat that had rolled down my brow and into my eye, but for a minute there I thought I was going to have to explain the biggest let down ever.
Back on the streets we had a (hopefully) stronger than new bracket and were ready to spend a few hours relaxing at one of the most gorgeous beaches I've ever seen. Sprawling out a blanket in the shade of one of the few trees there, I could barley keep myself still for 90 seconds before I was up and running around, sprinting into the waves like a little kid. There were some big breakers rolling in and I wouldn't let myself get fully submerged in them, lest I be swept away, so I just played in the tide and let the waves crash over my legs.
Having one more goal in mind for the day, I set off down the beach alone. It turns out that we happened to arrive to Bimini the same time as another young cruising couple, and the two of us have been trying to meet up for months now. Kim and Jereme of s/v Laho and Lahowind are brand spanking new to cruising, but Kim and I have been conversing through Facebook ever since last summer. Back when we were in Mexico and waiting for a weather window, I kept hoping that we'd make it to Key West right when they were heading that way from Naples, and even though I thought we were going to be the ones held up by bad weather, it turns out they were held up by a never ending list of boat projects and didn't make it to the keys until after we got to Ft. Lauderdale. I thought we'd missed our chance to ever meet up and possibly do some buddy boating, but the fates smiled on us and led both of us to the Bahamas right at the same time.
I had mentioned to Kim this morning that after some errand running around town, Matt and I would be hitting the beach and we hoped to meet up with them there. Every time I saw a new face arrive I'd quickly sprint down the beach hoping it was our new friends, but each time I'd find out that whomever had just wandered onto the beach, did not even come close to fitting the description of a young cruiser. We hung around for a little bit longer and enjoyed the turf, but since we'd had such a late start due to fixing our engine issues, it was already late afternoon. Taking the long way out (while making sure to avoid the cab driver that never did end up getting our fare), I showed Matt this cool shipwreck on the beach that, from the front, reminded me of a beached whale. This path took us right out to the entrance of the channel, and we watched the current rip through there, shuddering at what might have happened yesterday had we not been able to start the engine again.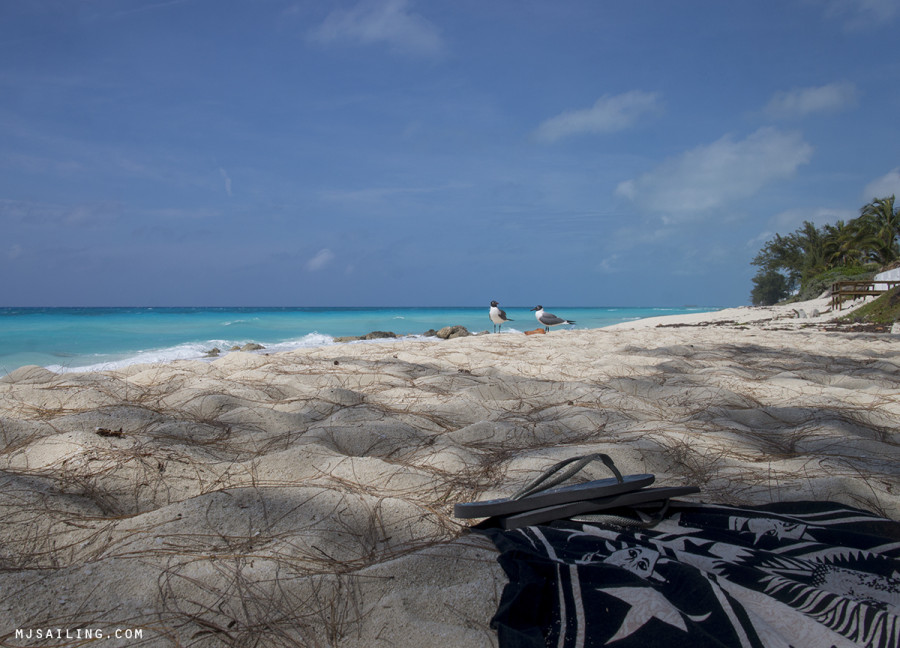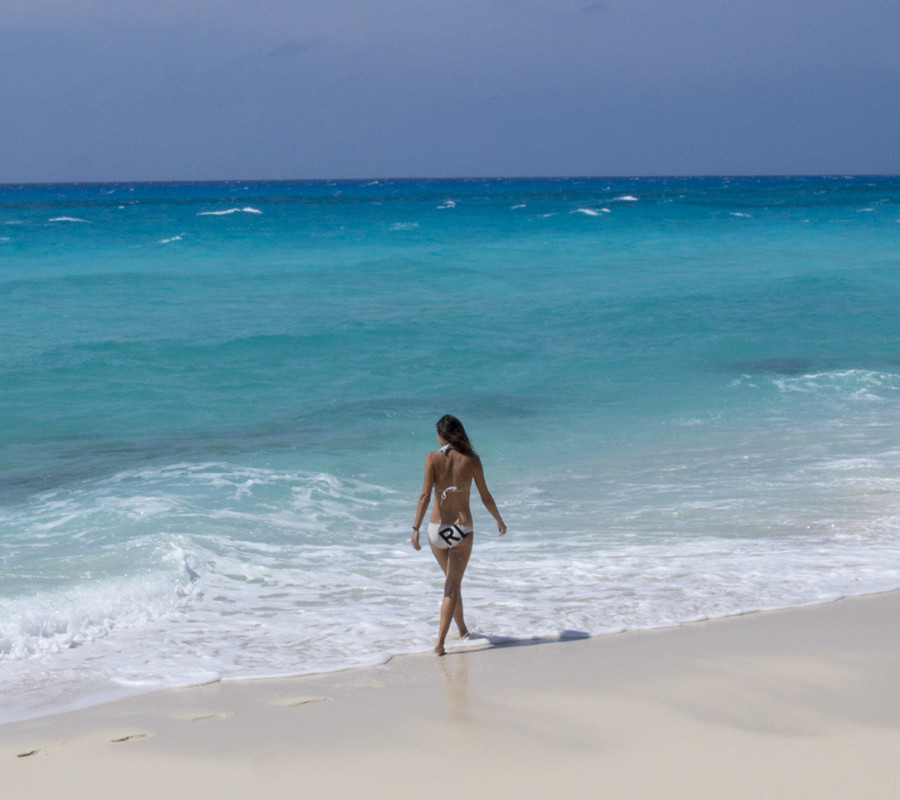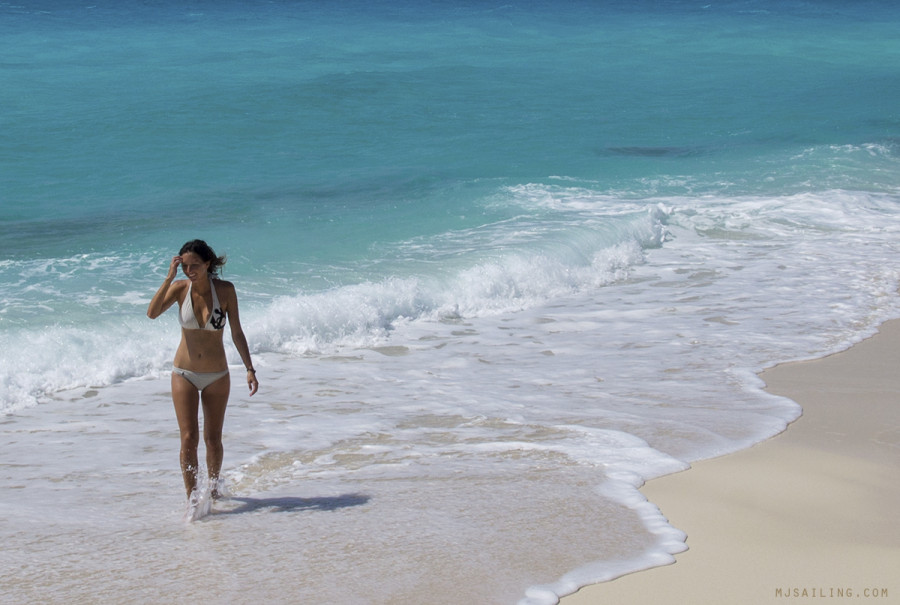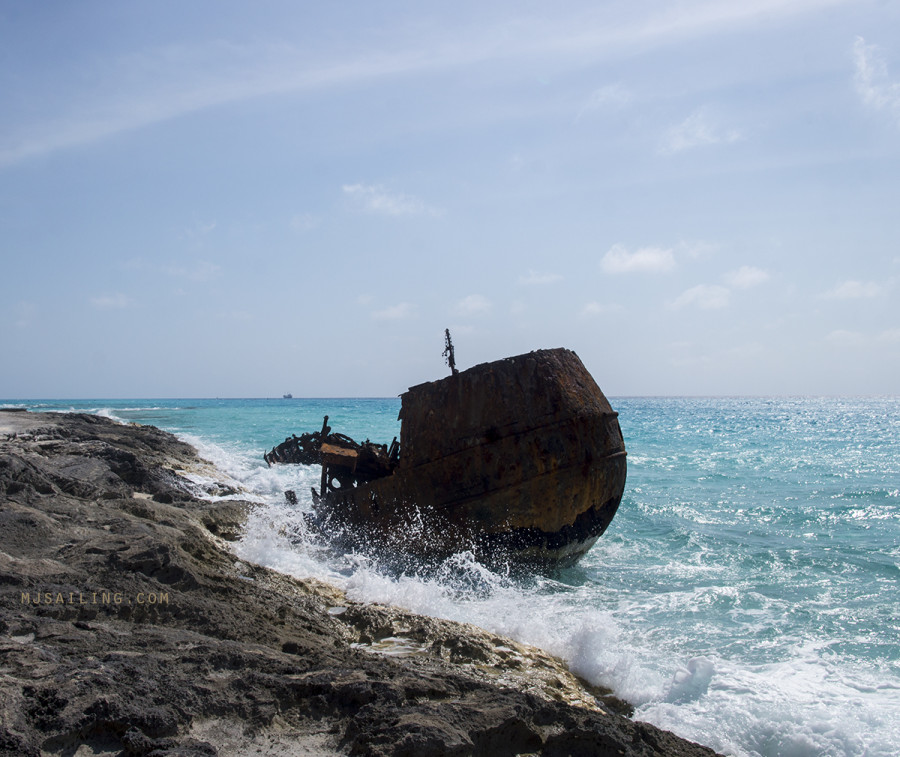 Wandering back through town and towards the dingy dock we came across Brown's marina where I knew Laho was staying. Luckily they were the closest boat to the road, and as I peeked my head through the chain link fence, I saw movement in the cockpit. "La-ho!!!" I yelled out, hoping to get their attention since this marina has a locked gate and we couldn't just stroll right in. It was Jereme that heard my call and just a moment later Kim poked her head out too, while the two of us frantically waved at each other as if to say "We finally caught up with each other!!". Moments later they were at the gate to let us in and walk us over to Laho.
Once on their boat we had the chance to meet their cute little poodle, Oliver, and instantly went into boat talk, poking around at the different electronics, and Matt instantly falling into a spiel about his latest research on all the gadgets they owned. Â Even though all four of us were sitting in the cockpit, the boys kept talking shop while Kim and I would try to interject little bits about actually traveling over their comments on radios and antennas. Â Unfortunately we didn't get in as much fun girly talk as we hoped while the boys were prattling on since a storm looked like it was coming our way and Matt and I still had a long walk back to Serendipity. Â It sounds like we'll all be here a few more days, so we'll have to make sure we get together again, this time where Kim and I can run off and talk travel and photography. Â Hopefully over a glass of wine.