Sunday March 18, 2012
St. Patrick's Day happened to fall on a Saturday this year.  If you coupled that with what we were expecting our night to be after last year (first time hanging out with Jeff and Jared at the bars for an awesome time!) and the fact that we should have been going balls out since this was our last St. Paddy's Day with friends, you would expect that we wouldn't be able to drag ourselves out of bed at all, let alone work on the boat.  But after being mobbed in our car on the way downtown from thousands of drunks taking advantage of the 80 degree weather, we ended up at TGI Fridays where I had one green beer and what I expect were watered down margaritas.  When we woke up the next morning it was as if we had stayed home all night.  Not to mention the sun was shining and it was 25 degrees warmer  outside than it should be right now, the kind of day that makes you want to rush outside, even if it is to do manual labor.
Wanting to wear shorts and a t-shirt in the heat I was still banished to wearing jeans and a long sleeve shirt because of all the dust particles I was about to encounter.  Winds were predicted to be under 10 knots all day which meant I should not have any issues getting the tarps to stay up.  When we got out of the car there was just a slight breeze on my face, but there must be something about where our boat sits because as soon as we started walking down the row where Serendip stood there was a strong wind whipping right through.  Again, starting to tape on the side the wind was blowing I didn't have much difficulty getting it to stay.  Once I got to the other side however, the wind kept trying to rip the tarp  out of my hands and rip the tape off the boat.  I knew I could get the tarp to stay in place if it were weighted at the bottom but there was nothing around me.  Abandoning the remaining tarp that was flapping in the wind I climbed into the boat to try and find any heavy objects I'd be able to anchor down the bottom of the tarp with and hopefully keep the top part from detaching from the boat.  In the mess of everything in the cockpit and cabin I thought I'd be able to find some kind of cart or container to do the job, but anything we had would have been much to big of a hassle to even try and get down the ladder.  Matt being ever so clever went up on deck to release the anchor chain and we could use the length and weight to hold down the bottom of the tarp and keep it in place.  He wound it around the boat while I was able to finally successfully keep it taped to the boat up top.
With Matt's help I was able to get everything set up within a matter of minutes at this point.  I pulled the  little Makita palm sander we borrowed from Jack out of it's box and went to work where Matt had left off last fall.  It was the aft area of the boat and I was hoping to be able to finish u the rest of that side that afternoon.  I had very specific instructions that the sander had to be held flat against the hull of the boat and couldn't use it at any angles for fear of digging in.  I switched the on button and held the sander on a spot in front of my face.  It spun to life and as I held it in a spot the now gray color of the hull would give way to the burnt orange underneath and finally the white/gray of the hull.  I was able to work for about 90 seconds and then my arms would become sore and I'd have to break for 60 seconds and then go back to work.  Every 3-4 rounds of this I'd have to take a longer 2-3 minute break.  I knew I wouldn't be great at this project but was pleased with myself for making any kind of advancement.  It was obvious right away though that my progress was not as quick as I'd originally hoped it would be with the sander and it would be very unlikely to finish that side that day.  I was hoping it would not be my job to sand the entire hull (the port side had not even been touched yet) because working once a week at the pace I was would have me finishing sometime in September.  At this point I assumed I was probably just 'extra help' to take a few hours of work away from Matt when he went back to finish the project himself.  I kept dutifully working for 90 seconds at a time making sure I could help out as much as possible and leave him with only one full day of sanding.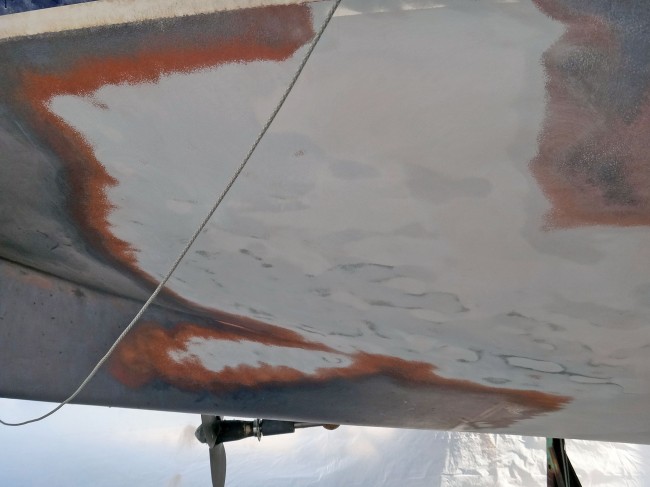 You can see the line to the right where I started
As the day dragged on my arms were feeling weaker and weaker and the work time would change t0 60 seconds with 90 second breaks. Â The 'long' breaks also became longer lasting for about five minutes where I'd lay on the ground and try to get rid of the awful pain in my back. Â When Matt came down to check on me one hour before quitting time he took at my work and turned to me and said, 'So think you'll be able to finish this side before we go home tonight?'. Â I laughed as I knew by now there was no way it could be done. Â When he realized I was serious he went into time-panick mode. Â 'I thought you'd be able to do this today. Â We don't have a lot of time, you still have to do the whole other side.' Â (Me) 'You know I don't have the strength to work as quickly as you, I thought I was just helping out so that when you went back to do it there wouldn't be as much work.' Â Neither of us were mad or yelling at each other, but there was a conversation going back and forth of how I didn't have the strength for a project like this and he didn't have time with all the other million things that have to be done to take time out and work on this too.
He took the sander from my hands and try it himself to make sure it was not an issue with the sander itself that was slowing down my work compared to when he was doing it. Â As I watched him work the sander (which was perfectly fine) I was that he'd angle it in certain spots to get down to bare hull. Â I ask why he was allowed to angle it but I had to keep it completely flat. Â He replied again it was so I didn't accidentally dig into the hull. Â Exasperated I came back that if he could do it without digging into the hull that I'm sure my light touch could do it too. Â I also replied that part of the reason my arms were so tired was using all of my energy to keep the sander flat while still giving it enough force to do anything. Â I told him that if I were allowed to angle it I'd be able to get much more work done. Â He handed the sander back to me and told me to be careful not to do any damage. Â As he went back up the ladder to work in the cabin I went back to work sanding with much more ease. Â I was able to get twice as much area sanded in almost half the time. Â In the next 45 minutes I worked there was dust flying everywhere as bottom became more and more bare. Â I still wasn't able to finish that side but by the time I started clean up I was much further along than I would have been flat sanding.
I was still ready to pack up and go home around 6:30, vacuuming the dust particles that had fallen on the tarp below me and the cradle of the boat. Â I un-taped the tarp and Matt brought the anchor chain back up in the locker. Â We had everything cleaned up and I was happy not to have to raise my arms again. Â I did however snatch my camera out of my purse and snap a few photos of the docks near us and the first boat of the year to make it in the water.